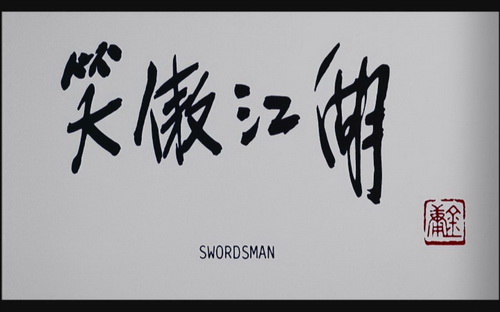 While I was resting at home the past 1+ weeks, I started reading through my favorite novel 笑傲江湖 again. This must have been my 6 or 7 times reading this epic work by

金庸.
I first started falling in love with

金庸's works when I was 10 yr old. I went from perfect eyesight to 300+ degree in short-sightness in one summer holiday as I frantically read through all of his works in those 2 months. And out of his works,

笑傲江湖 always remains my favorite, mainly because of

令狐冲, whom I could greatly relate to even as a young boy.
In my younger days, I was a lot more fascinated with the various 武功 depicted in the novel. But over the years, as I re-read this classic, I began to appreciate and understand its significance as a work on various human mentalities within a political context. In fact,
金庸 makes no secret that this is precisely his goal as he wrote the novel during China's cultural revolution in the late 60s.
After my 2 volunteer trips to Cambodia, I thought deeply about how one could contribute to the society in a more effective manner and the conclusion I came to is that one would likely have to take on the role of a policy maker and in most instances especially in developing countries, this equates to being a politician.
But being a policy maker or politician often means making compromises on one's principles, and most certainly a surrender of one's own private life. Being able to follow Confucius' belief of "
知其不可而為之" is indeed really tough. I suppose this is why I could relate to
令狐冲; his character is one of pursuit of individual freedom while never refusing to surrender one's own integrity standards. This sort of man can indeed always stand on a moral high ground, yet the complexity and the interactions of the various belief systems and power forces in a society means that such obstinate adherence to one's principles will certainly limit the actual scale or effectiveness of this person's contribution to society.
Of course, one can always aspire to become the likes of
方證大師, but the temptation for more influence and power will always be there
and I'm just not entirely confident of staying clear of the hideous path of 岳不群, 左冷禪. And it's also likely a path of no return once you've adopted the role of a public figure; the tragic ending for 劉正風 and 曲洋, while fictional, is very much a reflection of real life's difficulty of leaving the political sphere.
In any case, I'm reproducing the epilogue written by

金庸 at the end of

笑傲江湖. As I grow older, these words evoked more thoughts. This really ain't a simple novel, but a well-structured depiction of various political beings. I'd certainly be re-reading this in a few years' time (if God willing) and hopefully I'd gain some new insights again. Anyways, here's the epilogue; really well-worth a read:
聰明才智之士,勇武有力之人,极大多數是積极進取的。道德標准把他們划分為兩類:努力目標是為大多數人謀福利的,是好人;只著眼于自己的權力名位、物質欲望,而損害旁人的,是坏人。好人或坏人的大小,以其嘉惠或損害的人數和程度而定。政治上大多數時期中是坏人當權,于是不斷有人想取而代之;有人想進行改革;另有一种人對改革不存希望,也不想和當權派同流合污,他們的抉擇是退出斗爭漩渦,獨善其身。所以一向有當權派、造反派、改革派,以及隱士。
中國的傳統觀念,是鼓勵人"學而优則仕",學孔子那樣"知其不可而為之",但對隱士也有极高的評价,認為他們清高。隱士對社會并無積极貢獻,然而他們的行為和爭權奪利之徒截然不同,提供了另一种范例。中國人在道德上對人要求很寬,只消不是損害旁人,就算是好人了。《論語》記載了許多隱者,晨門、楚狂接輿、長沮、桀溺、荷丈人、伯夷、叔齊、虞仲、夷逸、朱張、柳下惠、少連等等,孔子對他們都很尊敬,雖然,并不同意他們的作風。   
孔子對隱者分為三類:像伯夷、叔齊那樣,不放棄自己意志,不犧牲自己尊嚴 ("不降其志,不辱其身"); 像柳下惠、少連那樣,意志和尊嚴有所犧牲,但言行合情合理   ("降志辱身矣,言中倫,行中慮,其斯而已矣"); 像虞仲、夷逸那樣,則是逃世隱居,放肆直言,不做坏事,不參与政治("隱居放言,身中清,廢中權")。 孔子對他們評价都很好,顯然認為隱者也有積极的一面。   
參与政治活動,意志和尊嚴不得不有所舍棄,那是無可奈何的。柳下惠做法官,曾被三次罷官,人家勸他出國。柳下惠堅持正義,回答說:"直道而事人,焉往而不三黜?枉道而事人,何必去父母之邦?" (《論語》)。 關鍵是在"事人"。為了大眾利益而從政,非事人不可;堅持原則而為公眾服務,不以功名富貴為念,雖然不得不听從上級命令,但也可以說是"隱士"——至于一般意義的隱士,基本要求是求個性的解放自由而不必事人。
我寫武俠小說是想寫人性,就像大多數小說一樣。這部小說通過書中一些人物,企圖刻划中國三千多年來政治生活中的若干普遍現象。影射性的小說并無多大意義,政治情況很快就會改變,只有刻划人性,才有較長期的价值。不顧一切的奪取權力,是古今中外政治生活的基本情況,過去几千年是這樣,今后几千年恐怕仍會是這樣。任我行、東方不敗、岳不群、左冷禪這些人,在我設想時主要不是武林高手,而是政治人物。林平之、向問天、方證大師、沖慮道人、定閒師太、莫大先生、余滄海等人也是政治人物。這种形形色色的人物,每一個朝代中都有,大概在別的國家中也都有。
"千秋万載,一統江湖"的口號,在六十年代時就寫在書中了。任我行因掌握大權而腐化,那是人性的普遍現象。這些都不是書成后的增添或改作。   
《笑傲江湖》在《明報》連載之時,西貢的中文報、越文報和法文報有二十一家同時連載。南越國會中辯論之時,常有議員指責對方是"岳不群"(偽君子)或"左冷禪"(企圖建立霸權者)。 大概由于當時南越政局動蕩,一般人對政治斗爭特別感到興趣。
令狐沖是天生的"隱士",對權力沒有興趣。盈盈也是"隱士",她對江湖豪士有生殺大權,卻宁可在洛陽隱居陋巷,琴簫自娛。她生命中只重視個人的自由,個性的舒展。惟一重要的只是愛情。這個姑娘非常怕羞靦腆,但在愛情中,她是主動者。令狐沖當情意緊纏在岳靈珊身上之時,是不得自由的。只有到了青紗帳外的大路上,他和盈盈同處大車之中,對岳靈珊的痴情終于消失了,他才得到心靈上的解脫。本書結束時,盈盈伸手扣住令狐沖的手腕,歎道:"想不到我任盈盈竟也終身和一只大馬猴鎖在一起,再也不分開了。"盈盈的愛情得到圓滿,她是心滿意足的,令狐沖的自由卻又被鎖住了。或許,只有在儀琳的片面愛情之中,他的個性才极少受到拘束。
人生在世,充分圓滿的自由根本是不能的。解脫一切欲望而得以大徹大悟,不是常人之所能。那些熱衷于權力的人,受到心中權力欲的驅策,身不由己,去做許許多多違背自己良心的事,其實都是很可怜的。   
在中國的傳統藝術中,不論詩詞、散文、戲曲、繪畫,追求個性解放向來是最突出的主題。時代越動亂,人民生活越痛苦,這主題越是突出。
"人在江湖,身不由己",要退隱也不是容易的事。劉正風追求藝術上的自由,重視莫逆于心的友誼,想金盆洗手;梅庄四友盼望在孤山隱姓埋名,享受琴棋書畫的樂趣;他們都無法做到,卒以身殉,因為權力斗爭不容許。對于郭靖那樣舍身赴難,知其不可而為之的大俠,在道德上當有更大的肯定。令狐沖不是大俠,是陶潛那樣追求自由和個性解放的隱士。風清揚是心灰意懶、慚愧懊喪而退隱。令狐沖卻是天生的不受羈勒。在黑木崖上,不論是楊蓮亭或任我行掌握大權,旁人隨便笑一笑都會引來殺身之禍,傲慢更加不可。"笑傲江湖"的自由自在,是令狐沖這類人物所追求的目標。
因為想寫的是一些普遍性格,是生活中的常見現象,所以本書沒有歷史背景,這表示,類似的情景可以發生在任何朝代。